May 3, 2017
[SEATTLE, WA] The Coalition is greatly saddened by the passing of former Governor and US Congressman Mike Lowry. Lowry was a leader in conservation and recreation who co-founded the Washington Wildlife and Recreation Coalition with former Governor and US Senator Dan Evans.
Lowry's 19 years in public office include four years serving on the Metropolitan King County Council, ten years representing the 7th congressional district in US House of Representatives, and one term as Governor of Washington state.
"Monday we said goodbye to a great advocate and a dear friend. Lowry was a champion of the environment of Washington state, and of its people. Without his contributions, the Coalition would not have been able to secure over $1.3 billion for outdoor recreation and conservation, preserving some of our state's most treasured landscapes and natural areas. The future of Washington's public lands now rest in our hands—we must continue the work that Lowry and Evans started to ensure this land is protected for future generations," said Coalition Board Chair Deborah Jensen.
"We were competitors, but far more importantly, we were colleagues, partners, and good friends," said Governor Evans. "Since we came from very different political backgrounds we were soon dubbed the 'Odd Couple.' I think we both enjoyed the title. There was never any question what Mike believed and he worked tirelessly on issues, always with peace, people, and progress in mind."
This "odd couple" possessed a true understanding of legislative compromise and bipartisanship. When they co-founded the Coalition in 1989, with the help of Elliott Marks and others, they began a 27-year legacy of cooperation across the aisle to protect Washington's most valuable outdoor resources and boost the outdoor economy.
"Mike's mantra, delivered in literally hundreds of speeches and appearances over the years, was that investing in our habitat and recreational infrastructure was critical for our economy and jobs, and for the health and wellbeing of our citizens.  We owe him a great deal for the rich legacy for future generations he worked so hard to create," said Marks, who remains an active Coalition Board Member.
Former Coalition Board Chair Joe Mentor called Lowry "optimistic and gracious, and he never lost sight of his goals. We are very proud to have known him as a leader, and as a friend."
Our greatest condolences are with Lowry's family. His legacy is permanent in his contributions to our state's natural heritage and the outdoor opportunities he helped create for Washingtonians.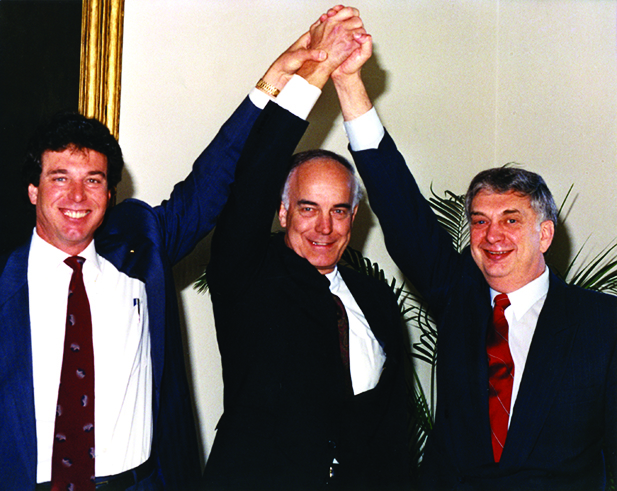 Left to Right: Elliott Marks, Dan Evans, and Mike Lowry