November 23, 2022
Every year, we make a big push to get legislators out to WWRP funded project sites across the state. While it's great to talk to legislators in Olympia, on Zoom, or at other individual meetings, there's nothing like seeing a project in person and hearing from the communities themselves to speak to the importance and impact of the WWRP.
Between June and November, we scheduled a total of 14 legislator tours, ranging over 13 districts focusing on legislators who are on capital budget committee as well as those who were newly elected. From Olympia to Spokane, we hosted legislators on projects in the local parks, trails, natural habitat, and other categories.
It's easy to say that in my three months so far with the coalition, project tours are some of my favorite days working. There's nothing like seeing a trail, park, or a natural preserve to remind you about the beauty of Washington and how much our work at the coalition helps sustain it and allows people to get outside.
My third day on the job was my first project tour, our whole team went to Olympia to visit Woodruff Park. While Representative Bateman wasn't there with us, her legislative assistant Kacey was able to join! It was awesome getting to see the splash pad and pickleball courts in use (two very popular activities on the WWRP local parks category lately).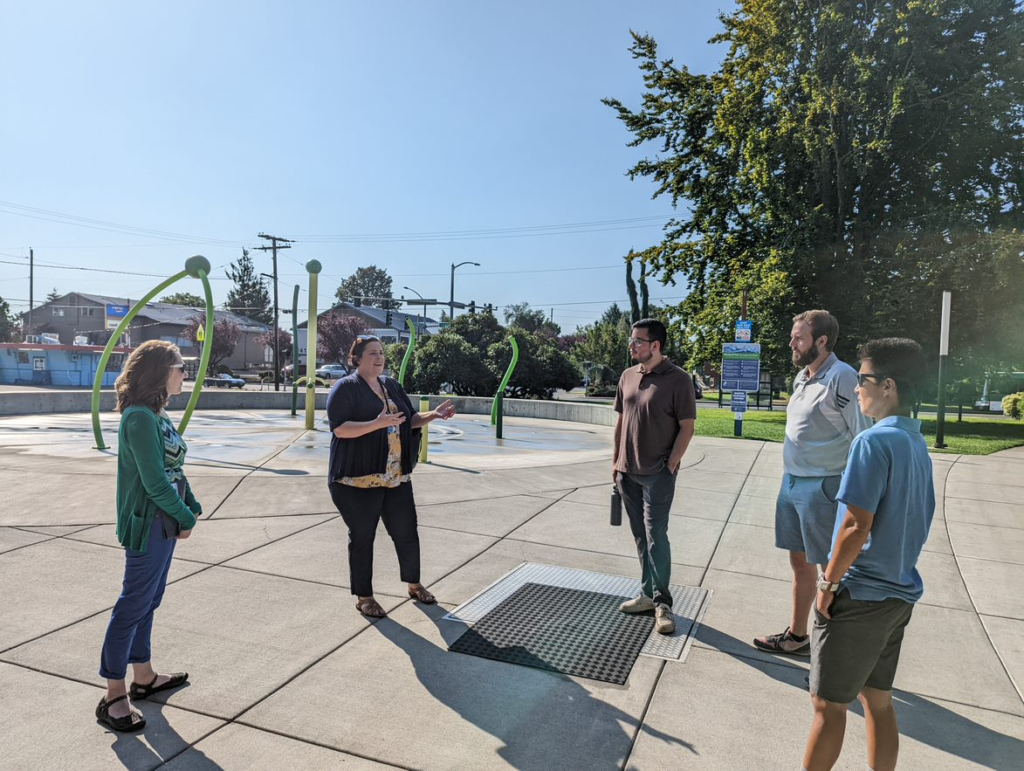 Later in October, on our WWRC staff retreat we toured the Saddle Rock Gateway acquisition with Representative Goehner. The story of Saddle Rock and the work being put in by our partners at the Chelan Douglas Land Trust was great to hear—for me this was my first time seeing Saddle Rock and even going to Wenatchee (despite growing up in WA).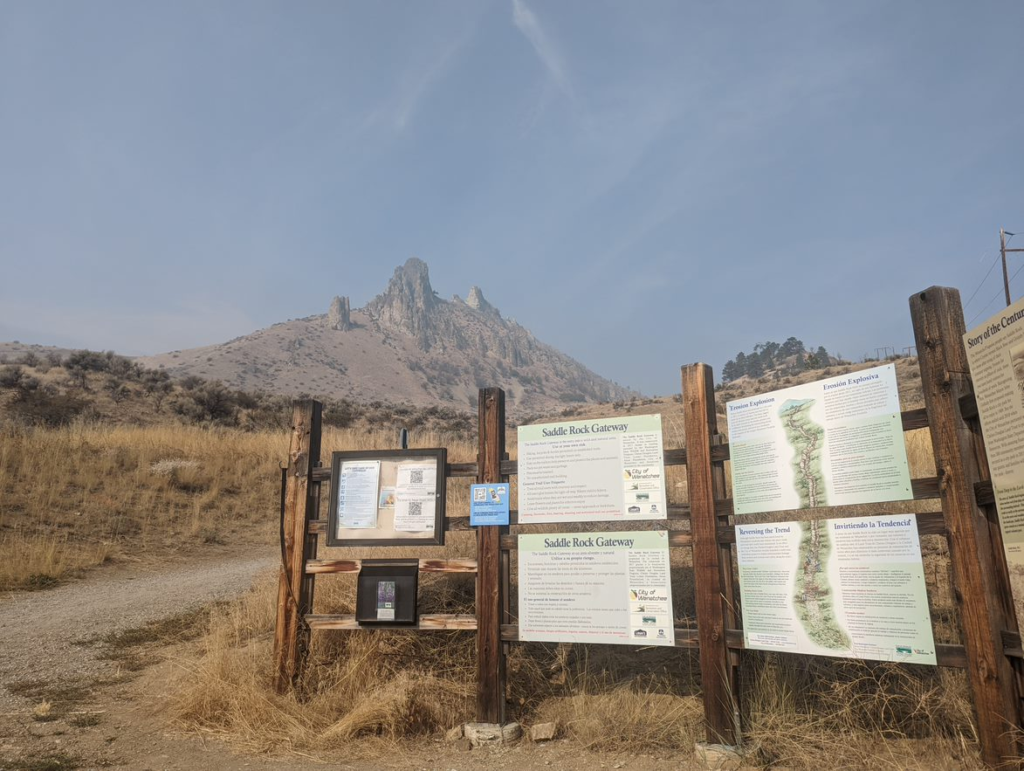 One of our last tours of the year was with Representative Kloba at Five Acre Woods. We had well over 10 community members attending this tour! The amount of work and effort, coalition building, and passion we heard from everyone was outstanding. Volunteer work parties are still held often at Five Acre Woods to develop it further into a community trail for all. We heard from many about all the wonderful ideas to add additional opportunities for the community—with particular focuses on accessibility and education.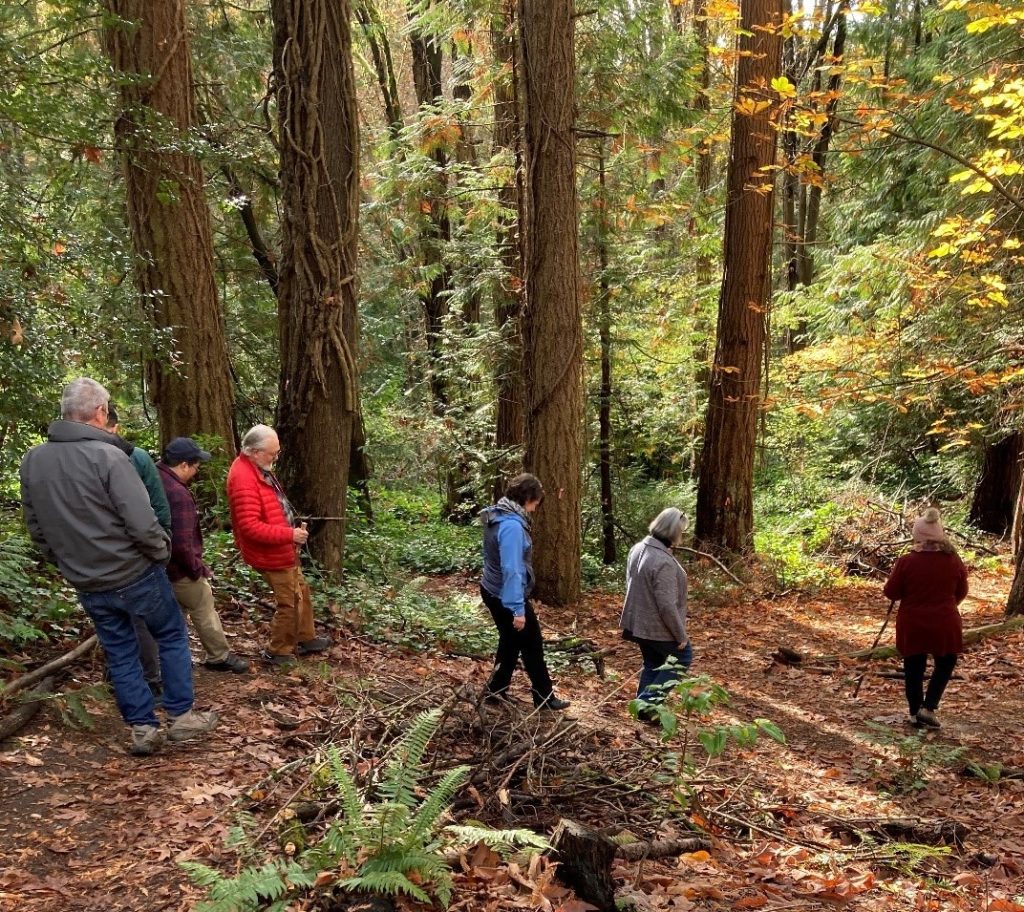 While I am unable to talk about all the legislator tours we went on this year in this one blog post, something definitely stuck out to me. Every community has passion for their projects, they utilize them for their health and wellbeing, and really value the spaces they developed. My experiences talking with people and hearing from those working on the ground really highlighted the importance of equity in our work. For smaller, more diverse, and/or less affluent communities, access to the resources needed to build a project is really limited. I am glad that our ongoing work on implementing the equity review recommendations with our partners at RCO will drive the path forward to building a more equitable grant program for all.
For those interested, here's a snapshot of all the tours that we went on this year:
2022 Legislator Tours
Rep. Berg (LD 44 – Snohomish County) Snohomish Riverfront Trail
Sen. Rivers (LD 18 – Clark County) Salmon Creek Trail
Rep. Kloba (LD 1 – South West Snohomish County) Five Acre Woods
Rep. Chase (LD 4 – Spokane Valley) Spokane River Centennial Trail & Flora Road Acquisition
Rep. Trudeau (LD 27 – Tacoma) Discovery Pond Play Area
Rep. Morgan (LD 29 – Tacoma/Lakewood/Pierce County) Wards Lake Park
Rep. Hackney (LD 11 – South Seattle/Renton) Lake to Sound Trail Segment A
Rep. Goehner (LD 12 – Chelan County, East King County, South Snohomish County) Saddlerock Gateway
Rep. Graham (LD 6 – Spokane County) Rimrock to Riverside Acquisition
Rep. Volz (LD 6 – Spokane County) Rimrock to Riverside Acquisition
Sen. Wilson (LD 17 – Clark County) Washougal Civic Recreation Complex
Rep. Abbarno (LD 20 – Clark, Cowlitz, Lewis, and Thurston Counties) Mayme Shaddock Park
Rep. Bateman – Staff (LD 22 – Thurston County) Woodruff Park
Rep. Rule (LD 42 – Whatcom County) California Creek Estuary
Sen. Sefzik (LD 42 – Whatcom County) Skookum Creek Acquisition II – Upper Skookum Creek
Huge thank you to all the legislators who toured with us, all the legislative assistants that helped plan the tours, and our partners and community surrounding us for supporting the WWRP! Keep an eye on our upcoming legislative day if you want to continue supporting WWRP with your voice and don't forget to Sign on to Full Funding for WWRP.