May 31, 2018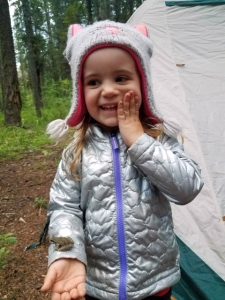 After a long holiday weekend spent out in nature with my family, sitting at a desk in an office building feels harder than usual for me. I'm daydreaming about being back in the sunshine with fly rod in hand, where all I hear is the sound of the two resident loons using their beautiful voices to let me know that I'm not wanted on their lake.
I want to go back to this weekend, watching my daughter try to catch frogs on the beach; sitting around a campfire with friends, our non-stop laughter echoing throughout Colville National Forest; sending stories of almost-caught big fish floating into the starry night.
I want to go back to the moment when I roasted that perfectly golden brown marshmallow, wedged with chocolate in between graham cracker halves, and handed my daughter her first s'more.
At dusk, I want to paddle out on that serene lake to absorb nature's great gift of silence and watch mayflies descend to the water for their one and only shot at glory.
Enjoying four days of camping, hiking, fishing, and stand up paddle boarding with my family was flat out spectacular. When I find myself drifting in thought this week, it will be because of experiences we had these last few days.
Our family tradition over the long weekend is to meet friends at Long Lake up in Ferry County. Over the last few years, our group has transformed into a "Family Camp"—something I never thought I'd have the pleasure to enjoy. There were more kids under the age of three this year than ever before.
"Pack it in, pack it out," I holler at Scarlett as she examines the ants forming a single line up the picnic table, munching on leftover crumbs from the previous camping group. This is yet another reminder about how important it is to leave the campsite better than we found it.
I bring my daughter into the wilderness because I want her to be able to tie an Albright Knot and know how to build a fire, but more importantly, I want her to appreciate and respect the outdoors. I want her to leave natural  places in better shape than when she found them. I want to inspire her to be a part of the next generation of conservation stewards.
Yesterday on our way home, my family and I drove through communities such as Republic, Nespelem, Coulee City, Soap Lake, Vantage, Ellensburg, Cle Elum, and Easton. We spent hours on Long Lake, drove over the Columbia River (multiple times), stopped to marvel at Banks Lake, and took a short break along the Yakima River.
As my wife and daughter slept in the back seat, I thought about families all across Washington state and what they were doing this holiday weekend. I want to tell each and every one of these people about the Washington Wildlife and Recreation Program and the ways it has positively affected their lives—in most cases, without them even knowing. From local parks to farmland preservation, the influence of the WWRP is seen all across the state.
This program is one of the most important tools we have to preserve and protect the outdoor places we love. How fortunate we are to live in a place where opportunities to spend time outside are bountiful—and how fortunate we are that leaders before us had the vision to create the WWRP and protect Washington's most treasured places.
It is the Coalition's work, and the work of others who value preserving our natural environment, that give children across our state the chance to grow and learn outdoors. 
So today, even though I'm itching to be outside instead of behind a desk, I am deeply grateful to be part of an organization that does so much to provide all Washington families with outdoor opportunities like the one my daughter just experienced. So that they too can catch that frog, enjoy that first s'more by a campfire, play by a tranquil lakeside, and most importantly, grow up to be stewards of our environment.