November 4, 2019
This year we've made a big push to get state legislators out to WWRP project sites across the state. From Blaine to Richland, legislators have seen in person how the program benefits communities in their district. All in all, we conducted 18 project tours for 21 legislators – a huge success! We wrapped up our 2019 legislator project tours in October with visits to parks and green space in Central Washington and King County.
Senator Joe Nguyen is the new senator from the 34th district, which includes West Seattle, White Center, Burien, and Vashon Island. On a crisp October morning, we partnered with the City of Seattle and the Delridge Neighborhood Development Association to give Sen. Nguyen a tour of the Longfellow Creek Green Space. Longfellow Creek is a rare block of open space in dense West Seattle, which provides wildlife habitat and watershed protection for salmon and clean water. WWRP Urban Wildlife Habitat grants provided funding to help the City purchase property in the green space. Sen. Nguyen enjoyed hearing from the Delridge community about their restoration work in this local treasure.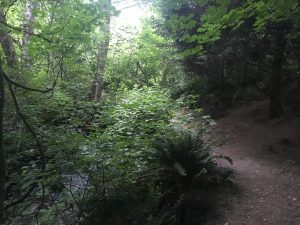 From Seattle we headed over the pass to Selah, near Yakima. We joined Selah Parks and Recreation to give Representative Chris Corry of the 14th district a tour of Selah's Volunteer Park. Volunteer Park, created with the help of a WWRP Local Parks grant, is the first universally accessible park in Yakima County. The playground is built to be enjoyed by kids of all abilities, who can play together in a park that meets their needs. Rep. Corry, a foster parent, was thrilled to learn about the park so he can take kids there in the future.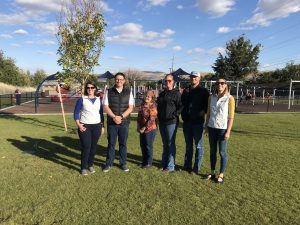 We visited another WWRP-funded accessible playground in Bellevue with Rep. My-Linh Thai of the 41st district. Inspiration Playground, located in Bellevue's Downtown Park, is a sensory-rich, fully accessible play area funded partially by a WWRP Local Parks grant. The park is already well-loved by the local community: both kids and adults alike enjoy the playground, lively atmosphere, and colored lights. Rep. Thai heard from Bellevue Parks & Recreation the story of how the playground came to be and all the local donors who came together to make it possible.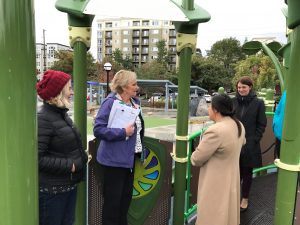 Unfortunately we were unable to wrap up our 2019 tours before fall weather started in earnest. But a little (well, actually a lot) of rain didn't stop our final tour of the year with Representative Bill Ramos of the 5th district. Together with our partners Washington Department of Natural Resources, Mountains to Sound Greenway Trust, Evergreen Mountain Bike Alliance, and Washington Trails Association, we showed Rep. Ramos several WWRP-funded recreation projects in the North Bend area. We saw new mountain bike trails at Raging River State Forest, talked about Trailhead Direct and growing trail use at Mount Si, and got a sneak peak of upcoming water access improvements to the Middle Fork Snoqualmie River. Thanks for braving the rain with us, Rep. Ramos!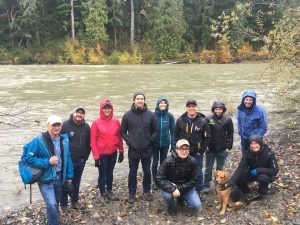 A big thanks to the 21 state legislators who joined us on WWRP project tours this summer and fall, and thank YOU for your support of the Coalition to make this important advocacy work possible!