November 22, 2021
Imagine that you are a parent of two, and your kids just want to get outside and play in the playground. But the nearest safe playground is over an hour's drive away. To save time and gas, you need to tag on a couple of errands.
By the time you get to the playground, everyone is tired, hungry, and cranky. All anyone wants to do is cry.
For Amie, this has happened more than once. Her eight-year-old son, Judah, has Angelman Syndrome. A generally happy kid, he loves spending time with kids his own age. But walking on his own on uneven ground is difficult.
Judah can get overwhelmed easily, and that day-long trip to the playground is just too much for him. Nearby playgrounds, with their uneven surfaces and steep stairs, are downright dangerous for their family.
Amie says that as a family, they tend to focus on the things Judah can do. And he can do so much! But the local playgrounds just highlighted his disability. It pointed out all the things he can't do. And that was heartbreaking.
"Helping Judah climb up the steep stairs to the slide at the local park has been incredibly challenging and unsafe. The way the stairs are built is fairly treacherous for someone with a disability–I almost fall off backward trying to help him. His grandma sometimes brings him to the playground, but she can't help with the slide anymore. It's just too dangerous."
When Sarah Grossman, a physical therapist at Judah's school, asked Amie if she would like to be a part of the solution, she jumped at the chance. That's how she became part of JUMP!, or Jefferson Universal Movement Playground.
And now, thanks to a lot of hard work, community building, and a grant from the Washington Wildlife and Recreation Program, JUMP! plans to break ground on eastern Jefferson County's first accessible playground in 2022. Everything from the surface of the playground to each individual play structure (yes, including the slide!) is designed to provide fun, safe, stimulating play, for children of all abilities.
"If we provide a place where Judah and his brother Hunter can do all the same things together, that would bring so much joy to our family. We would love to make the playground a gentle part of our lives."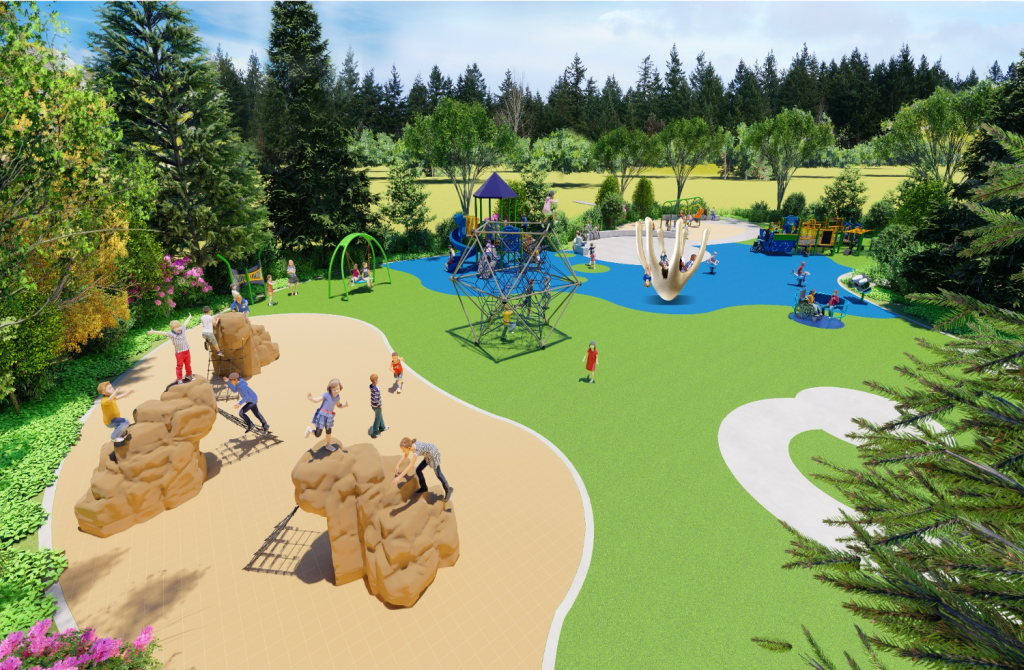 But it's not just her individual family that will benefit. Amie is grateful for the community that has built up around the effort to make the playground happen.
"This project has been a really positive part of the journey for me personally. When you have adversity, you can take it one of two ways. When Judah was first born, I thought about all the things we couldn't have, the things we would miss out on. It took me a while to realize all the things we gained. For one thing, we gained a community through this project."
"I have learned so much from my 8-year-old," Amie says. "And I think other people can learn a lot from my son. This playground provides an opportunity for people to be together, to learn from each other in ways that might be surprising."
This playground wouldn't be possible without robust public funding for Washington's outdoor spaces. The WWRP helps bring community projects like this one to life all across the state.
You can make a difference for kids like Judah all across the state by making a gift to the Washington Wildlife and Recreation Coalition today.
And, if you give by December 31, your gift will be matched, up to $15,000!
So take a moment and help make your vision for the future of Washington's outdoors come true at wildliferecreation.org/donate.