January 20, 2021
We all have our own connections to the outdoors, unique lived experiences, and personal perspectives on what the outdoors means to us. These varying relationships can be due to geography, family, community, culture, income, profession, age, race, gender, sexuality, and other factors. There are a multitude of ways outdoor spaces can provide for communities, over the next few blog posts we will be focusing on different communities in Washington and their relationships to outdoor spaces.
For the second blog post of our three-part series, I sat down to chat via Zoom with Opus Co. chefs, Cecily Kimura and Paolo Campbell, who started Brunch Box, located in the Greenwood neighborhood of Seattle, on the ancestral land of the Duwamish and Coast Salish people. We chatted about how they both grew up with food being big parts of their cultures and how they connect food to the outdoors. We then dove into why they love cooking brunch, what it's like cooking in a pandemic, and the Highland Park Improvement Club community lunch program, where they have been serving free lunch every Tuesday since January 2020.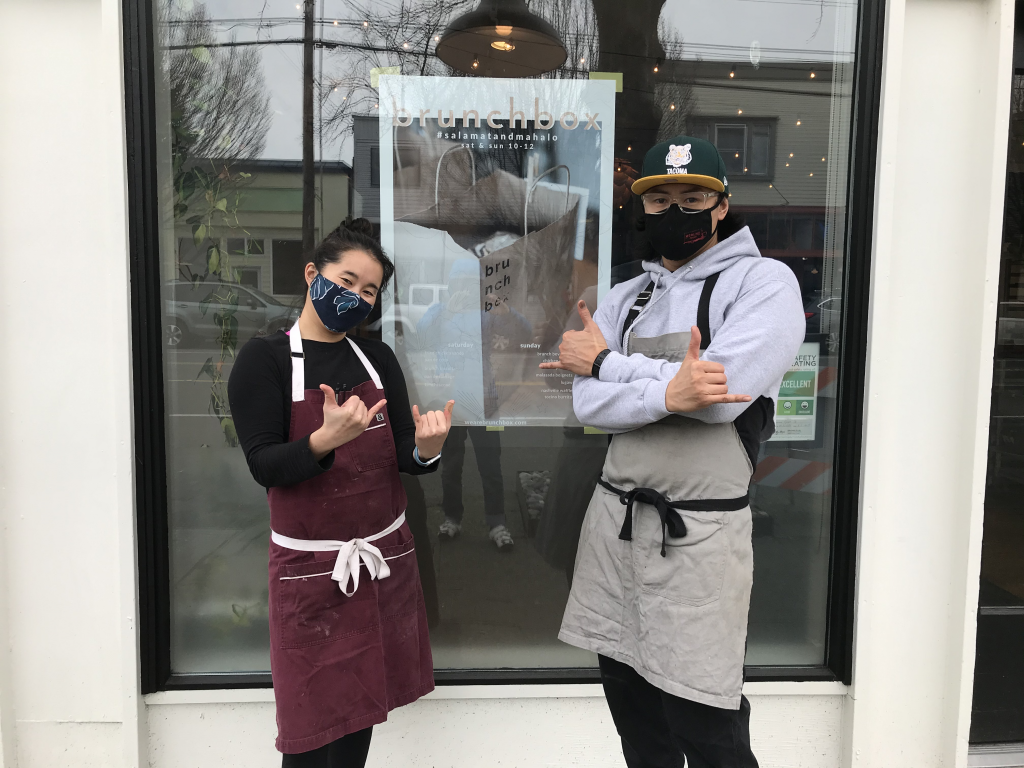 Cecily grew up on the Big Island of Hawai'i and Paolo grew up in the Philippines, California, Virginia, and Texas. Food has always been very important in both of their mixed cultures. Cecily remembers cooking wonton outside in the open garage with her dad for Japanese New Year and Paolo walking and eating street food in the Philippines. At large or "small" family+friends gatherings there was always an abundance of food, no matter the gathering, and you always left with a full stomach.
Caitie: What is your connection with food and the outdoors?
Cecily: Food and the outdoors growing up in Hawai'i: I think baby lūʻau, high school graduation parties, barbecuing at the beach. It's always been a communal thing. I never ate outside by myself, it was always with other people. Also, cooking outside, you're always surrounded by people. When you're at a BBQ, people naturally congregate around the grill. So when I think of food and the outdoors, it's always with people.
Paolo: Eating outside, it's always a party, even when it's semi outside, in the garage with the door open. It becomes a hub. Everyone is always hanging out with their guitars and ukuleles jamming and cooking at the same time. Eating outdoors is way easier with a bunch of people and it's just not as formal. It's so great, you can sit on the ground and it's fine, sit on a tree stump or the grass. Eating inside is weird, thinking about it now, especially now. When I lived in the Philippines we would always eat outside, walking around and eating street food. Everything just smells super hard too, eating inside is just intense. Frying fish inside isn't the most delicate of aromas. If I had to eat somewhere, outside is preferred.
Now as chefs at Opus Co. and Brunch Box they are the ones cooking and providing the food that everyone is gathering around. In November 2019 they decided to start a once-a-month brunch pop-up called, Brunch Box, run out of Opus Co. The once a month quickly grew into every Sunday, and then Saturday and Sunday by March 2020. While still operating under the Opus Co. roof, their brunch service plays by their own set of rules. Menu items rotate depending on the day. There is a "Ride or Die" special that is a surprise until you pick it up with flavors inspired by their Filipino and Hawai'i upbringings. It sells out every Sunday. To keep menu item prices low, everything is to-go only. Guests are meant to eat this at a park, in their neighbor's yard or front stoop, or in their car because it smells too good to wait till you get home, basically anywhere but Opus Co.'s intimate dining area.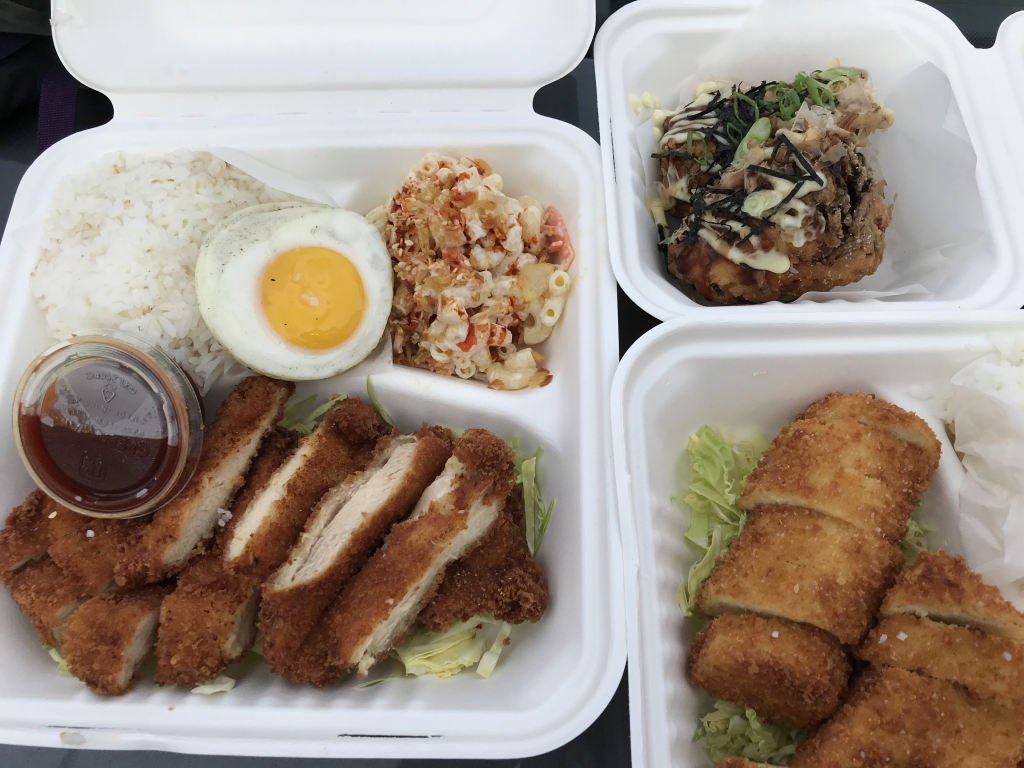 Caitie: Why do you like cooking brunch so much?
Cecily: I like it because brunch is causal. You can play it fast and loose and be very creative and do some different stuff and people won't get so thrown by it. To me brunch is meant to be playful rather than a dinner menu, which can sometimes come across as more formal. The main reason we wanted to open Brunch Box was to introduce people to food from our cultures and heritage, things maybe they haven't had before. Introduce them to new terminology and ingredients.
Paolo: Brunch is such a chill menu, there isn't so much pressure. I think sometimes people aren't really sure what they're getting into with brunch. They might not even be awake and might not be thinking too hard about what they're ordering, so they're willing to try something new and see what happens. When in doubt, we just throw an egg on it and boom, that's brunch!
Don't let this "fast and loose", "chill/casual", "no pressure" talk fool you, these two chefs bring it every weekend. Their creativity and knowledge of the perfect balance of salty, sweet, spicy, and something pickled makes their brunch menu my favorite in the city. Not to mention their thoughtfulness in picking delicious items that travel well and are easily eaten outside.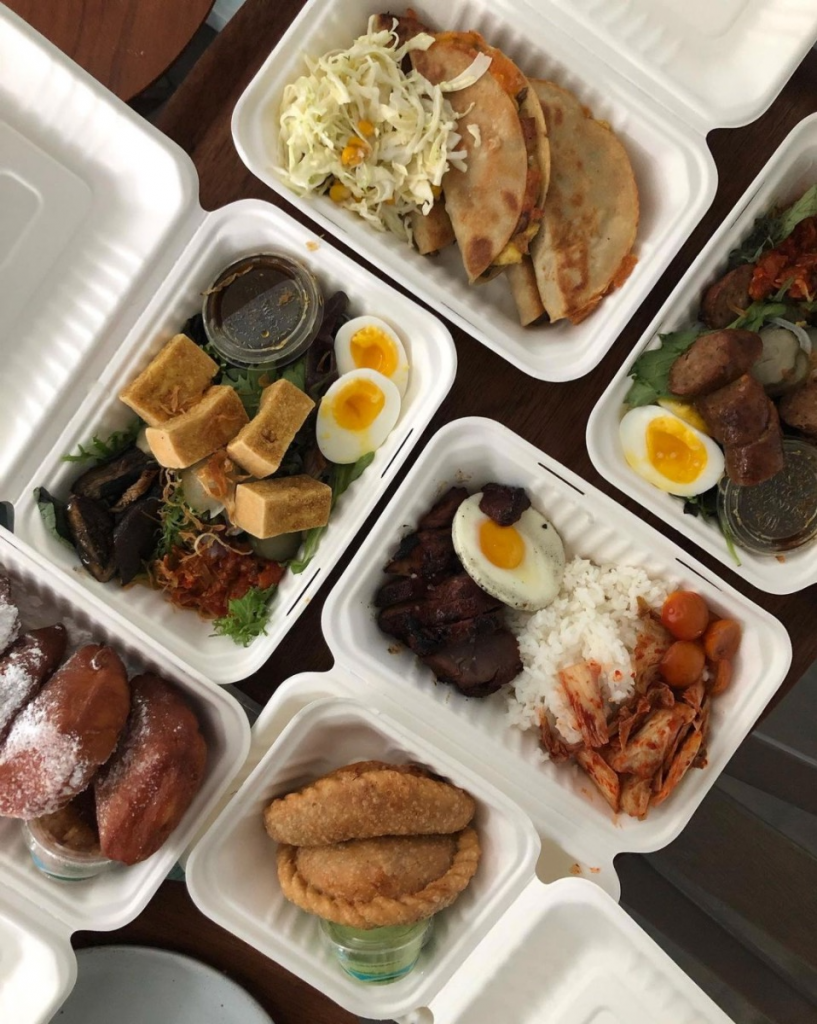 *Cecily is my younger sister, so I might have a little bias on my favorite brunch spot in the city, but we're part of a family that definitely lets each other know when we're not going to be winning any awards.
Caitie: You started Brunch Box in November 2019 and it was never meant to be eaten inside, everything is packaged to-go. How did you envision guests eating your brunch?
Paolo: I thought people were going to eat on the little bench outside. When it's sunny outside people can sit and walk wherever they want, but it's not always like that here in Seattle. It's nice people were never meant to stay put, they can just go anywhere.
Cec: The to-go was born out of necessity, we wanted to keep costs low and Opus Co. doesn't have a big dining area so we had to package everything to-go. But as time went on and the pandemic started, we realized people were getting food with their families and friends and going to a nearby park to social distance and eat.
A portion of every Brunch Box meal purchased goes directly toward their free Tuesday community lunches at Highland Park Improvement Club in West Seattle. The free Tuesday lunch menu varies seasonally. In the warmer months, they were cooking outside on Paolo's flat-top grill and serving anything from bibimbap to carnitas. Currently in the soup and stew season, they work out of Highland Park's renovated kitchen serving dishes like: Hainanese chicken long rice and pork pozole.
Caitie: How many free meals have you provided since you started in January 2020?
Cec: We prep 150 meals every Tuesday x 43 weeks = 6,450 meals.
Caitie: Wow, that's a lot of meals. Have you needed to pivot in the last year to continue to provide these meals safely throughout the pandemic?
Cec: No, not really. Logistically everything was already setup pre-pandemic to package up the food at the Highland Park, hand it off to the volunteers, and they distribute the lunch to the community members that come by the center.
Paolo: The only difference now is that we're inside and aren't able to see or wave to the community members who come by. It was so nice to be outside and wave to people and see our regulars even if you didn't see their face.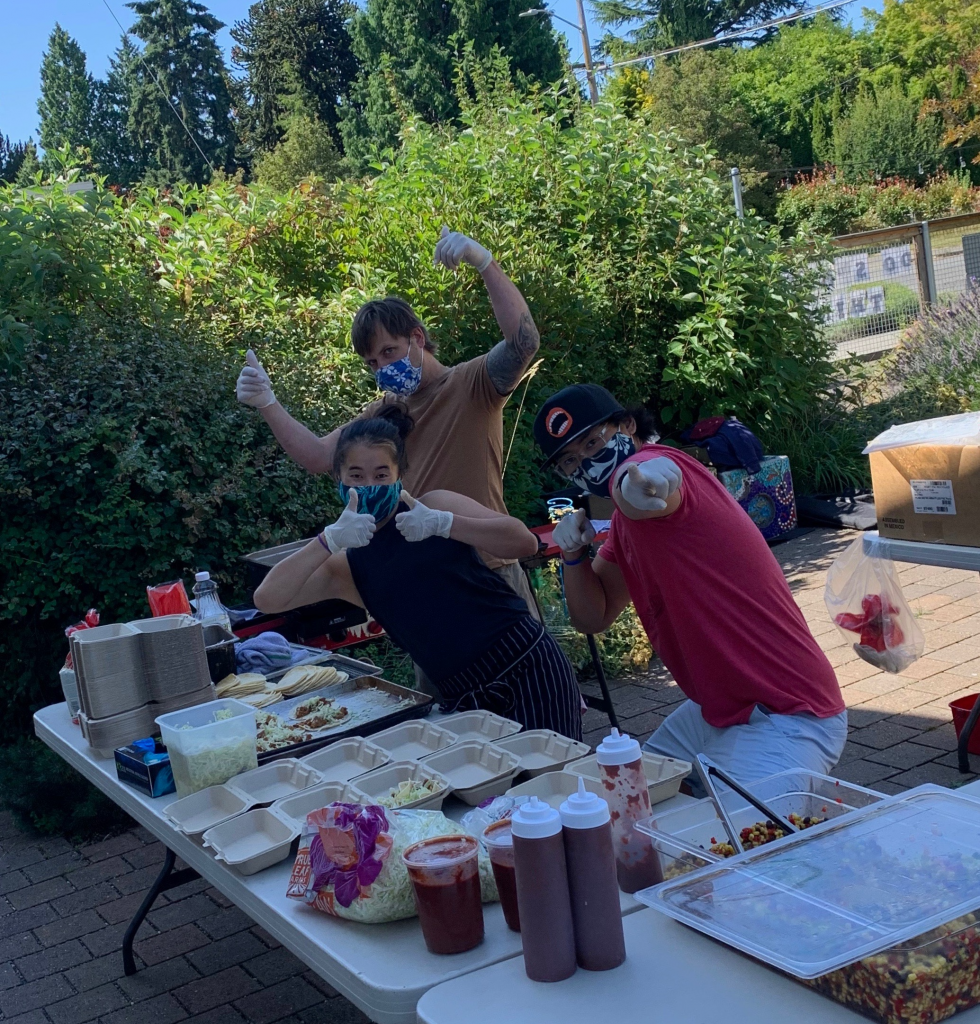 Caitie: What does it mean to you to be able to keep serving brunch in a pandemic?
Paolo: It's pretty dope, and it's awesome that we started Brunch Box as a to-go menu and didn't have to switch once the pandemic hit. Our original plan was to do Brunch Box once a month to a couple times a month and then build it from there. But then everything went to sh*t in March and Opus Co. wasn't going to be open for dinner every night, so to make it work we started serving brunch every weekend.
Cec: It's been nice to be here and constant for our regulars and the community since the pandemic hit and not have to change anything. Opus Co. has also stayed open to-go for dinner throughout the pandemic, and we're grateful to have been able to keep cooking dinner for everyone and thankful for our regulars.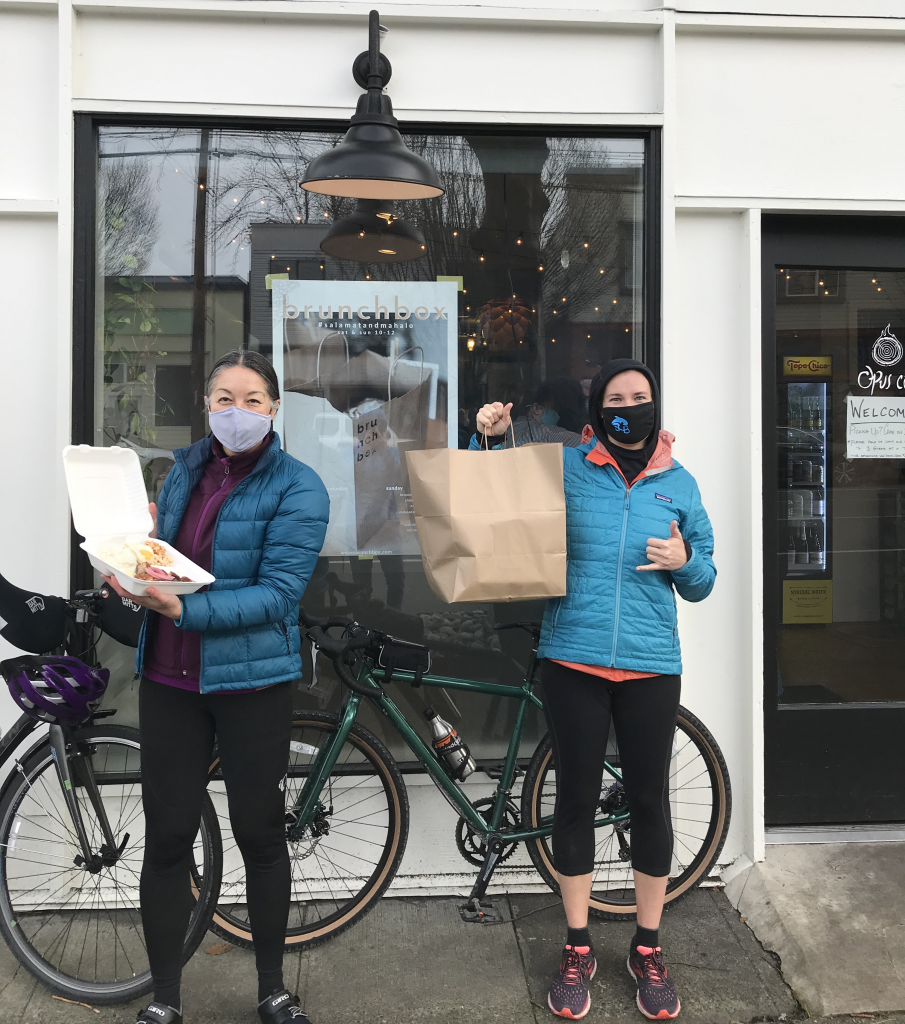 Their consistency throughout the pandemic has definitely been a bright spot in 2020. I have looked forward to planning weekends around sharing brunch with friends outside. Sometimes we're planning a bike ride to end at Brunch Box and eating in the parking lot of Gary's Automotive, or are driving to the empty Greenlake ballfield parking lot to eat in the back of our hatchbacks. Brunch Box is still bringing us together when we need it the most. I would like to send a big salamat and mahalo to Brunch Box and Opus Co. and all of the restaurants and coffee shops who are hustling to stay open. You all are helping hold friendships, families, and communities together.