October 9, 2020
The virtual 2020 Refuge Outdoor Festival was nothing short of an amazing experience and to be quite honest, I didn't miss the outdoors. It was originally created in 2018 as a 3-day camping experience geared toward Black, Indigenous, people of color (BIPOC), allies welcome. Typically a cross between a family reunion, summer camp, and rejuvenating retreat where daily outdoor recreation activities, community conversations, nightly concerts, and art exhibits are its focus, I didn't really know what to expect with the festival becoming a virtual camp-in. But the lineup of workshops and presenters sounded dope so my spirits were high.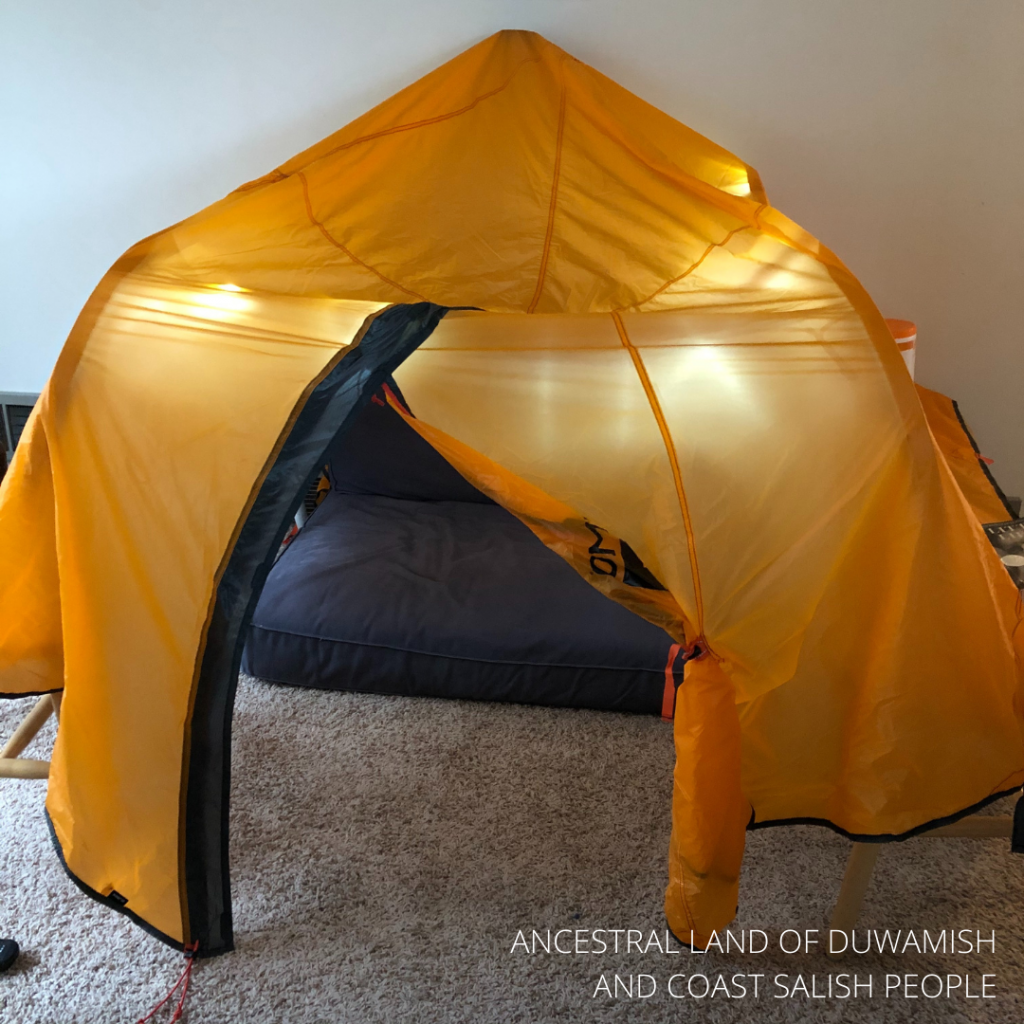 To get into the camp-in mood my partner and I built a tent out of our living room furniture, a golf club (we got creative), rainfly, and string lights. We got comfy and the festival kicked off with a presentation on How Disability Justice Will Build Caring Communities. Vasu Sojitra spoke about "everyone's collective ability to build nurturing, caring communities that shift from workaholism, impatience, and dehumanization of our bodies and minds toward a more caring, loving space that creates welcoming and accessible spaces for everyone."  If we take the time to work towards an environment where everyone's needs are met, we will have created a space that benefits everyone. This theme resonated throughout the rest of the Festival.
This was the first outdoor event I have attended that was geared toward BIPOC and created by BIPOC which made all of the difference. There is a small group of people I have felt comfortable being my full self with in the outdoors and I wasn't quite expecting to find this same freeing feeling with a group of mostly strangers at Refuge Outdoor Festival. But the organizers of Refuge created a virtual space where I felt I could show up as my full self. They included people with broad ranges of experiences and identities who were working in collaboration to create an event for people with similar experiences and identities. Similar to Vasu's presentation, when everyone's needs are met, everyone benefits. By creating a space with the intention to meet the needs of BIPOC and inviting workshop presenters who identified as disabled, queer, trans, and BIPOC, the space felt comfortable and welcoming to a diverse group of participants.
I would like to send love and gratitude to Golden Brick Events and the Refuge Outdoor Festival for an unforgettable weekend. You all introduced me to a type of space that I didn't know existed and something that I have been missing, one that is designed for someone like me. Refuge Outdoor Festival demonstrated the importance of having diversity in areas of race, gender, sexuality, physical ability, and cultural background in the planning and decision-making process and designed something made for those of us who are commonly left out of the conversation. By centering and celebrating the marginalized, you created something even better, an event filled with empathy, intentionality, realness, and inclusivity for all individuals. You have set the bar high for other virtual and in-person events and all organizations can learn from you!
Golden Brick Events has other events in the works and if you haven't already, please go and check them out!