Support $130 Million for WWRP and Washington's Great Outdoors
Sign a letter supporting a Capital Budget request of $130 million for WWRP in the 2019-21 biennium.
Increased funding for the Wildlife and Recreation Program (WWRP) is more important than ever. This year, over 120 different local, state, tribal, and non-profit groups from across the state submitted 273 applications for funding in the next biennium—a 12 percent increase!
Investing in the WWRP is an exceptionally cost-effective strategy for advancing the long-term health and well-being of our residents, our diverse ecosystems, and our state and local economies. WWRP projects help mitigate the impacts of rapid population growth, create outdoor opportunities for families in urban settings, preserve wildlife habitat, protect cherished public lands, and so much more. Read our press release for more information.
Want to help? Sign a letter to the legislature supporting $130 million in funding for the WWRP, the state's largest public funding source for outdoor community projects. 
Read the letter: Sign-On Letter 2018
Sign the letter: http://bit.ly/SignOn2018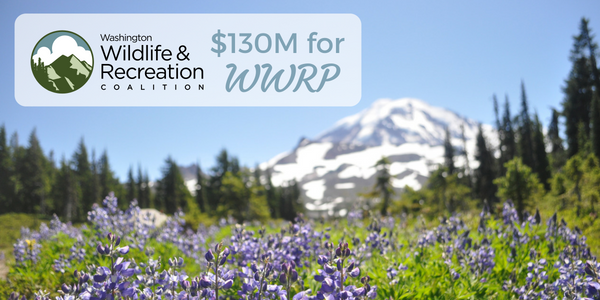 .
Let Your Elected Officials Know You Support WWRP
Your legislators need to hear from you about why the outdoors matter and the importance of protecting our natural heritage.
Never met with a legislator before? Don't worry, we will make sure you have everything you need!
Get it touch with the Coalition for assistance with talking points, draft letters and contact information for your legislators.
Don't know who your elected representatives are? Simply visit Access Washington's District Finder and enter your address to find your state legislators and Members of Congress.