Do you love the outdoors?
Do your kids play at a local park?
Do you enjoy locally grown produce?
Do you hunt or fish?
Do you hike, paddle, backpack, mountain bike, ride horses, play sports, run, walk, nature bathe, worship, garden in a park ppatch, forage, swim, or otherwise live and play in the outdoors in this the beautiful place we call home?
Whatever you do outdoors, chances are, you've seen more people than ever joining you this year. More and more people are discovering the mental and physical benefits our great outdoors provide, especially during challenging times.
As our population grows, as more people get outside, we need to provide more opportunities for communities to access safe and welcoming outdoor areas. We need more trails, more parks, more picnic tables, more water access, and, quite frankly, more toilets!
We also need to protect and restore lands for the plants and animals who share these wild places with us. They must flourish, even as our populations grow, so our ecosystems remain healthy and vibrant.
That's why we're asking the Governor and Legislature to invest $140 million in the Washington Wildlife & Recreation Program. The WWRP (part of the state capital budget) funds outdoor projects all across the state, from urban parks to working farms to mountain trails.
Won't you join us in asking for this important investment in our outdoors, our economy, our way of life, and our future?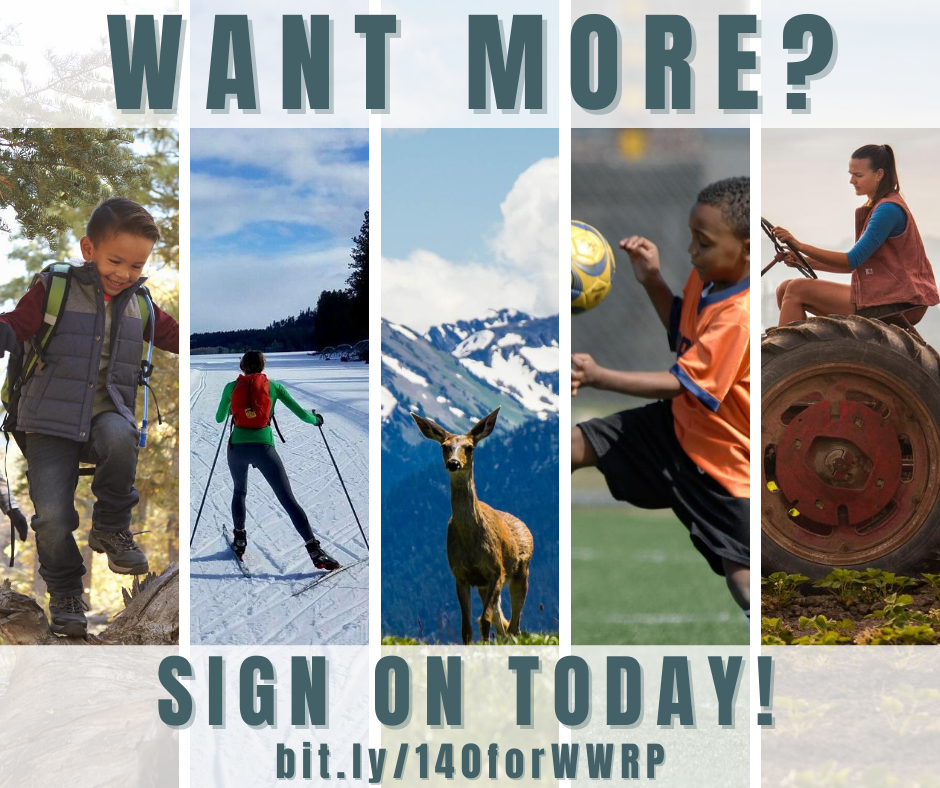 Let Your Elected Officials Know You Support WWRP
Your legislators need to hear from you about why the outdoors matter and the importance of protecting our natural heritage.
Never met with a legislator before? Don't worry, we will make sure you have everything you need!
Get it touch with the Coalition for assistance with talking points, draft letters and contact information for your legislators.
Don't know who your elected representatives are? Simply visit Access Washington's District Finder and enter your address to find your state legislators and Members of Congress.