Join us for breakfast on September 19!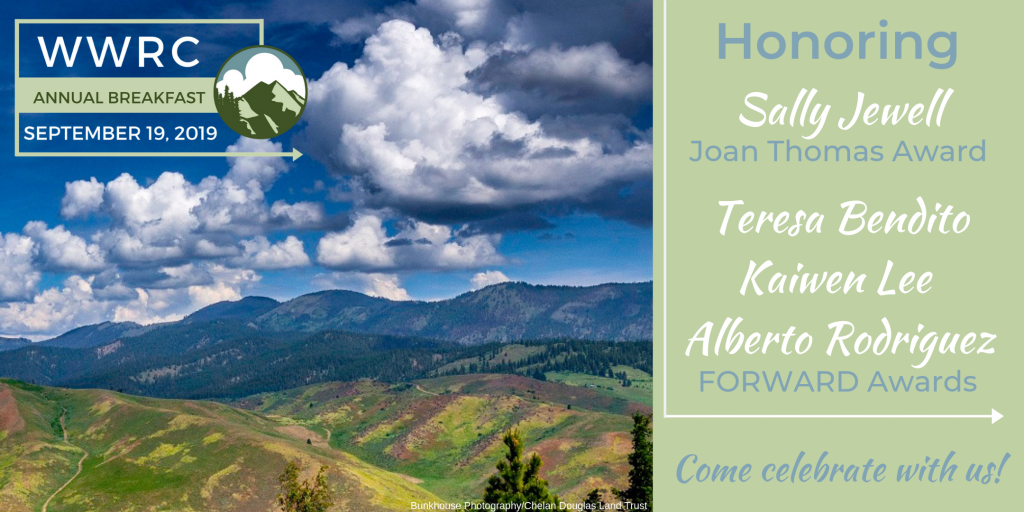 Who: You + hundreds of other outdoor enthusiasts, business leaders, politicians, and nonprofit partners
What: Celebration of Washington's great outdoors and the leaders who are working hard to preserve it for our enjoyment today and for generations to come
Where: Westin Seattle 1900 5th Ave, Seattle, WA 98101
When: September 19, 2019; 7:00 am registration, 7:30-9:00 am program
Why: to support the Coalition's work to fund outdoor recreation and conservation projects across the state
The breakfast is free to attend, but is a fundraising event. The minimum suggested donation is $150. To make a donation in advance of the breakfast, please donate here or call us at (206)748-0082.
For sponsorship opportunities, to become a table captain, or for more information please contact us at Breakfast@WildlifeRecreation.org.
We know great leaders when we see them.
Each year, the Coalition invites you to join us in honoring leaders from across the state who make Washington a wilder, greener, healthier, and overall better place to live. From advocates with lifetime legacies to those leading the way forward, we know that leaders come from every walk of life.
We recognize the outstanding contributions of lifetime conservation champions with the Joan Thomas Award. The award honors those who have worked tirelessly to ensure the next generation has access to the same beautiful parks, wildlife habitat and working farms that we enjoy today. This year, the Coalition is pleased to present the Joan Thomas award to Sally Jewell, former Secretary of the Interior.
The Coalition is also excited to honor Teresa Bendito, Kaiwen Lee and Alberto Rodriguez—three incredible young leaders who are leading the way forward. These leaders are empowering their communities and bringing the outdoors closer to home. They advocate for clean water, engage youth with outdoor opportunities, and create culturally relevant spaces. The Coalition is looking FORWARD, and the future of our outdoors is in good hands.
Sally Jewell
Sally Jewell was U.S. Secretary of the Interior from 2013 to 2017. During her tenure, Jewell was recognized for using a science-based, landscape-level, collaborative approach to natural resources management. Her work included championing the importance of science and sharing data to better understand the earth's systems, encouraging investments for more sustainable use of water in the West, deepening relationships with indigenous communities and long-term conservation of the nation's most vulnerable and irreplaceable natural, cultural and historic treasures. She demonstrated a commitment to connecting people to nature, particularly youth, with efforts to encourage tens of millions of young people to play, learn, serve and work on public lands.
Jewell was previously president and CEO of REI. Earlier in her career, she served for 19 years in commercial banking across a wide range of industries and began her career as an engineer in the energy sector. She has been active in governance and board leadership for corporations and nonprofit organizations, including serving as a Regent of the University of Washington where she is currently a Distinguished Fellow in the College of the Environment.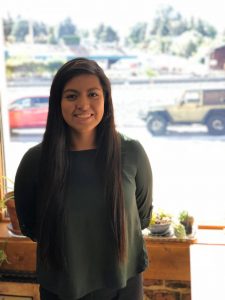 Teresa Bendito
Teresa Bendito is a community organizer and co-founder of Parque Padrinos, a grassroots community organization that leads park advocacy, relationship building, and culturally relevant outdoor experiences in South Wenatchee, Washington. Teresa is currently completing an accounting degree at Central Washington University. The daughter of Mexican immigrants, Teresa's parents instilled in her the importance of civic engagement and public service, and she's served in a variety of leadership roles at organizations in her community, including the Northwest Immigrant Rights Project, the Community for the Advancement of Family Education (CAFÉ), the Washington Trust for Historic Preservation, and the Trust for Public Land.
Teresa is the recipient of several honors and awards, including Our Valley, Our Future's "One Community Award" in recognition of her role in co-founding Parque Padrinos, advancing a community vision for a neighborhood park renovation in her neighborhood, and collaborating with others to break down jurisdictional and cultural barriers in Wenatchee. Teresa is passionate about leveraging diversity, placemaking, and civic engagement activities to address bigger issues that her community faces.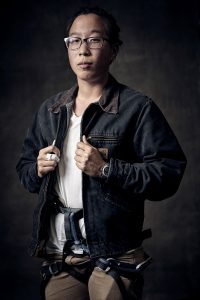 Kaiwen Lee
Kaiwen 李愷文 (they, them, theirs) grew up in New York where they developed an affinity for nature through climbing maple trees, planting a vegetable garden, and working on prairie restoration in high school. Kaiwen continued doing all those things in a more professional context as a wilderness instructor, urban gardener, habitat restoration specialist, and youth leadership development program manager. Committed to advancing equity and building power in communities of color, Kaiwen continuously strives to make institutional and systemic change in their field and as a co-founder of Outdoor Asian. Previously, Kaiwen served on the City of Seattle's Environmental Justice Committee and was recognized as one of the National Park Conservation Association's "Top 10 Under 40."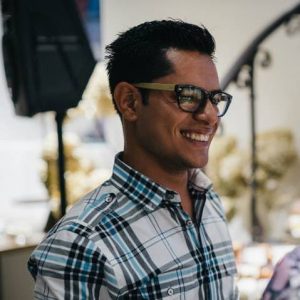 Alberto Rodriguez
Originally from Honduras, Alberto moved to Seattle, WA in 2010 after getting his degree in Biology and working on several environmental conservation and research projects in Honduras and Guatemala. In the U.S., his work has focused on implementing community-led environmental restoration and community planning through an environmental justice and racial equity lens. In June 2016, he joined the City of Seattle to lead the newly-created Duwamish Valley Program. In this capacity, he led 18 City departments in the co-creation process of the Duwamish Valley Action Plan, a combined environmental justice, equitable development, and anti-displacement strategy that is currently being implemented in collaboration with community, other agencies, philanthropy, businesses, and others. He previously worked for the Duwamish River Cleanup Coalition, a community-based organization that builds power for the communities affected by the Duwamish River Superfund site in Seattle, WA. In this capacity, Alberto was appointed to a 16-person committee that developed the nation's first municipal Equity & Environment Agenda.
Alberto's work has been recognized with a couple of local awards from the South Park Neighborhood Association (2012) and Sustainable Path Foundation (2013). In 2014, he was a finalist for the first-ever Emerging River Professional Award, an international award sponsored by the International River Foundation and the International Water Centre Alumni Network. Alberto graduated from the Center for Diversity & the Environment's 2042 Today, is a Senior Fellow of the Environmental Leadership Program's first Pacific Northwest Regional Network class, and currently is a member of the second cohort of the Fulcrum Fellowship, a highly selective leadership program for rising executives seeking to help disinvested communities achieve their environmental, social, and economic priorities. Alberto also serves as a board member of OneAmerica, the largest immigrant rights organization in Washington state.
A huge THANK YOU to our sponsors
Columbia Sponsors ($15,000+)
REI Co-op
The Nature Conservancy
The Trust for Public Land
Trailblazer Sponsors ($5000)
Bill & Frankie Chapman
Charley Dickey & Sheila Wyckoff-Dickey
Forterra
King County DNR & Parks
Washington REALTORS
Pathfinder Sponsors ($2500)
Pope Resources
Rayonier