May 25, 2021
This past Saturday I went to my first Asian American Pacific Islander (AAPI) event. It was a community bike ride organized by Wang, Jess, Jim, Steve, Aaron, along with a few others, and I'm still so STOKED on the day! The best part was that I went with my sister, Cecily, and it was her first official road bike ride.  It was amazing to feel so comfortable with people I've never met but look like me, and to be able to connect while riding bikes around the city. It also felt AMAZING to be in a big group and take up so much space while biking, when I'm usually the one making space for oblivious dudes riding side by side, refusing to make space for others.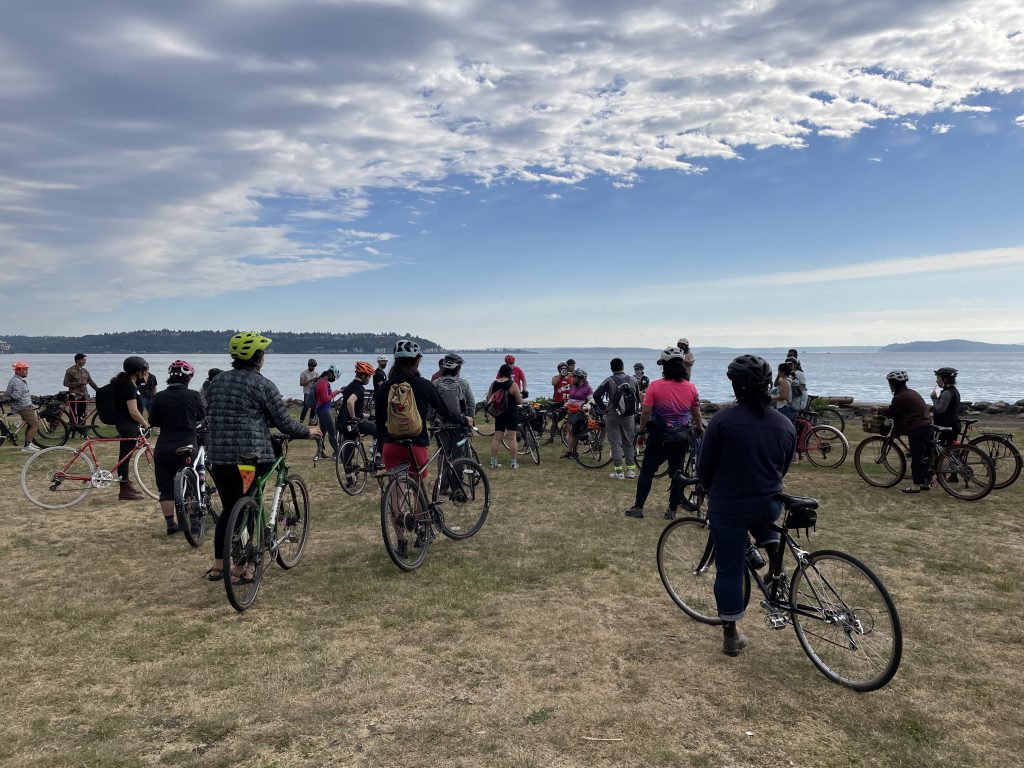 The ride was created as a follow up to a more informal AAPI community ride earlier in April following the Atlanta mass shooting and numerous anti-Asian hate crimes happening across the US and here in Washington. It was a space to be in community, connect, thrive, and eat good food. It's also no coincidence this ride fell in May, AAPI Heritage month. The month of May was chosen as a way to commemorate the first wave of Japanese Immigrants to the US on May 7, 1843 and also marks the anniversary of the completion of the transcontinental railroad on May 10, 1869. Many of the workers who built the railroad were Chinese immigrants who worked for little pay under terrible conditions.
The ride started at Gasworks Park, on the ancestral land of the Duwamish and Coast Salish People, and went through Fremont, Discovery Park, Myrtle Edwards Beach Park, the International District, and up to Yesler Terrace Park. The ride was very inclusive of all riding abilities, and the pace was more for connection than cadence.
As I am still smiling from the event and can't wait for the next, I'm reminded of the power and importance of affinity groups. I'm so grateful that my sister was able to have a positive first ride experience surrounded by such genuine and caring folks. I would like to send a big MAHALO out to everyone who organized and rode on Saturday. My heart is so full, and I can't wait to ride with this group again!