September 4, 2018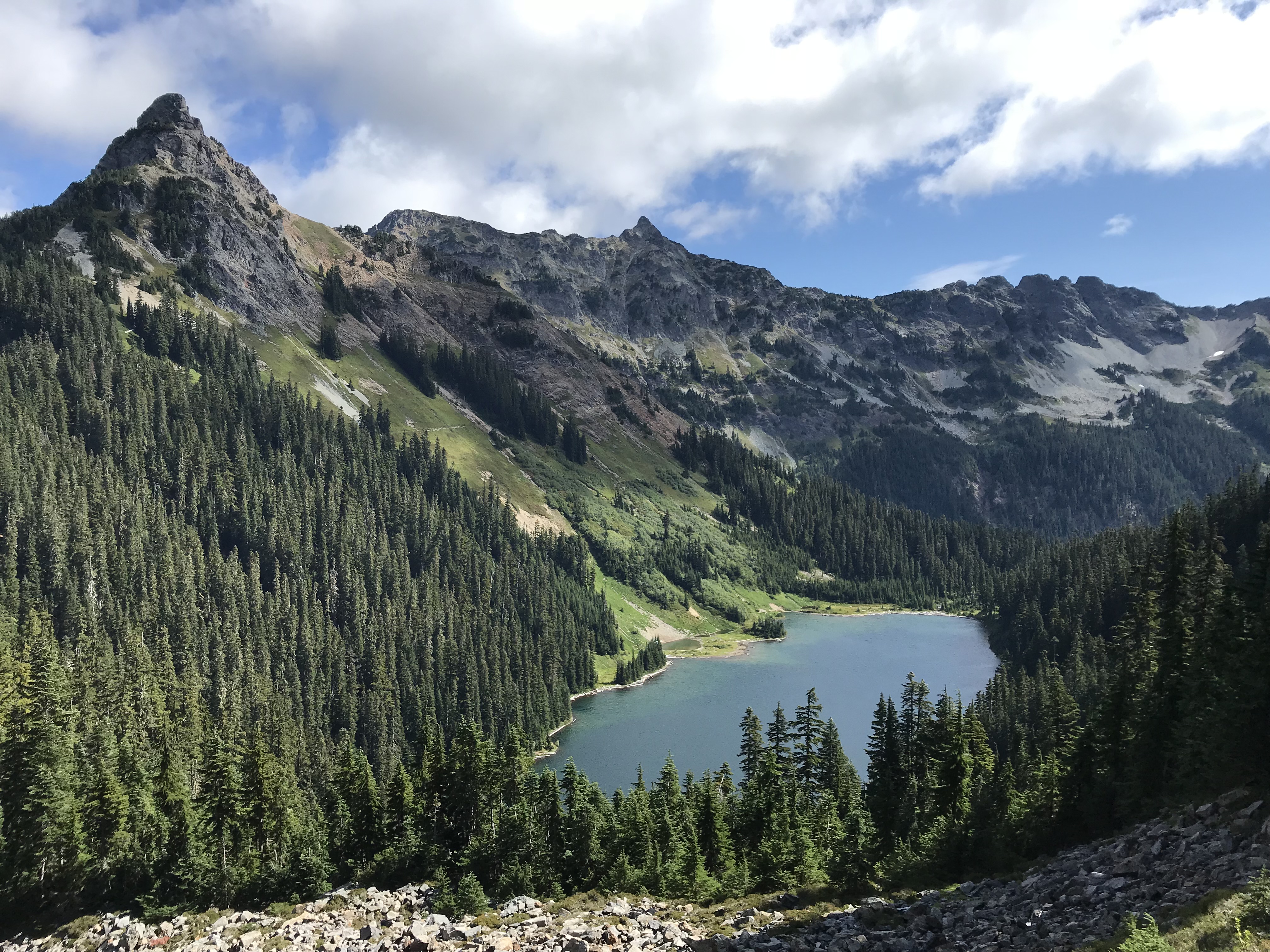 Coalition staffer Betsy Robblee describes her unforgettable experience hiking a portion of the PCT over Labor Day weekend:
This weekend, I did a hike I've wanted to do for years. The Pacific Crest Trail between Stevens Pass and Snoqualmie Pass: 76 miles of spectacular terrain. Here are some of my random thoughts on the experience.
Mornings were my favorite. As I hiked I watched the earth wake up—first light filtering through the tree canopy or luminous light hitting the tree tops in the valley below. My feet seemed to eat up the miles and my brain was alive with deep thoughts.
It was a perfect weekend to be hiking—no smoke, cool mornings, and warm afternoons—the early cloud layer coating the tree tops like marshmallow fluff. Wildflowers and early fall colors. ⠀⠀⠀⠀⠀⠀⠀⠀⠀
⠀⠀⠀⠀⠀⠀⠀⠀⠀
The beauty kept me going, especially the section closer to Snoqualmie Pass. But the final miles of the day were tough, and those last five miles to the pass—exquisite torture as the burgers and beer are so close but the switchbacks are so gentle.
⠀⠀⠀⠀⠀⠀⠀⠀⠀
I was definitely not alone. So many thru-hikers—so many beards—rushing to get to Canada. Solo older men with 1980s era packs. A dad and two daughters.
⠀⠀⠀⠀⠀⠀⠀⠀⠀
It's been said much more eloquently before, but the trail changes you. No, you do not need to wake up, roll over, and pick up your phone. It is possible to spend hours thinking about nothing (except for that pesky song that won't get out of your head).⠀⠀⠀⠀⠀⠀⠀⠀⠀
⠀⠀⠀⠀⠀⠀⠀⠀⠀
I couldn't help but feel thankful for the foresight of the conservationists who fought so hard to protect this land, and the trailblazers who literally blasted paths into the sides of cliffs. And for the organizations that still protect and maintain these amazing trails, like the Washington Trails Association and the Pacific Crest Trail Association. ⠀⠀⠀⠀⠀⠀⠀⠀⠀⠀⠀⠀⠀⠀⠀⠀
Finally, I am grateful for the immense privilege I have to hike—never may I forget that. ❤️